Dismantling Systemic Racism conference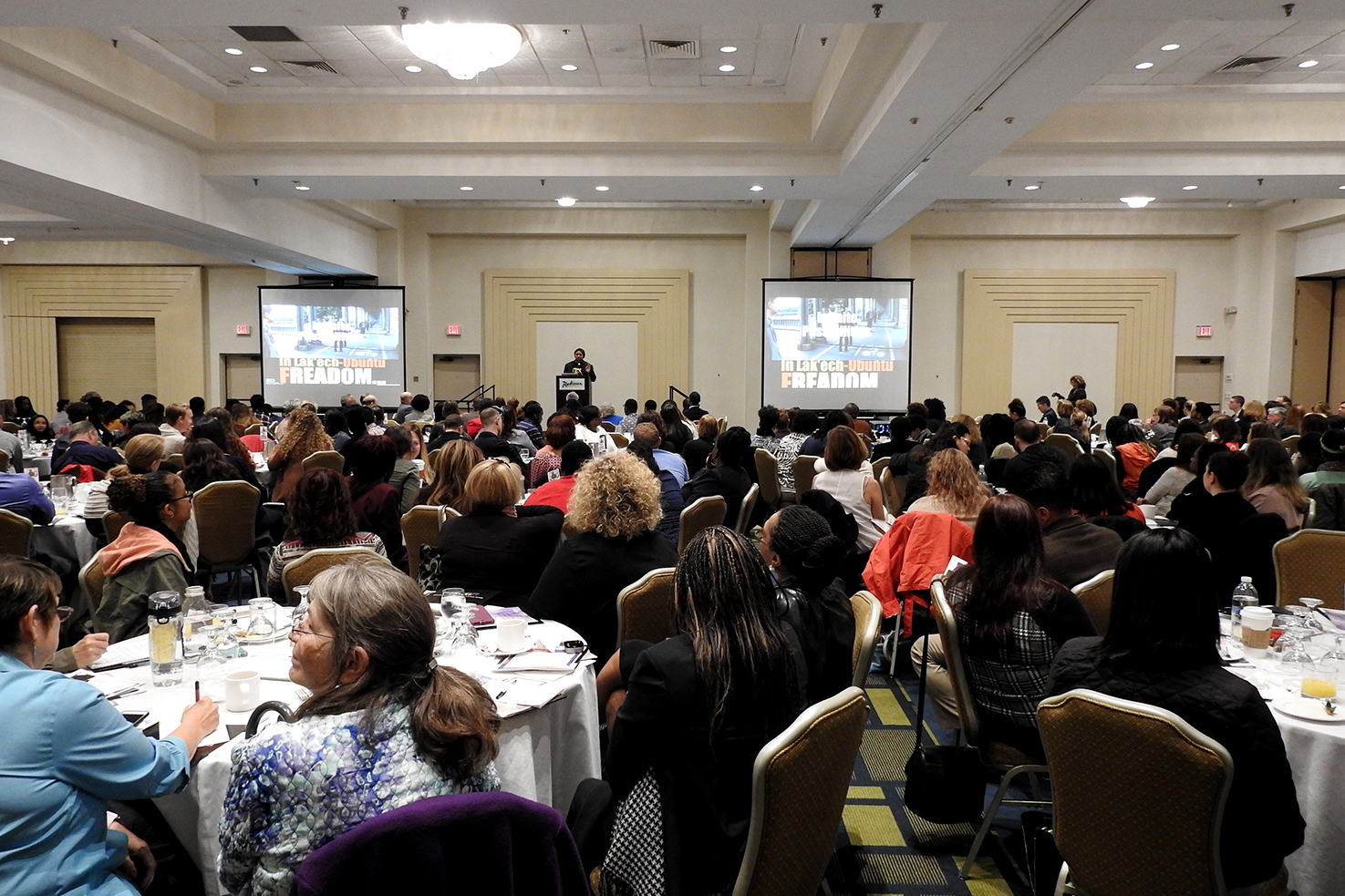 More than 350 people packed the Radisson Hotel in Cromwell May 10 for policy, poetry, and powerful calls for tackling the racist structures that contribute to opportunity gaps in education.
"Dismantling Systemic Racism: 2017 Conference on Race, Education & Success" was the second annual event of its kind from SERC and the SERC Foundation. Participants included educators, community leaders, students, and others from across Connecticut and beyond. They learned about school programs, effective practices and activities, and the ongoing challenges associated with systemic racism and assuring equity in education for all students.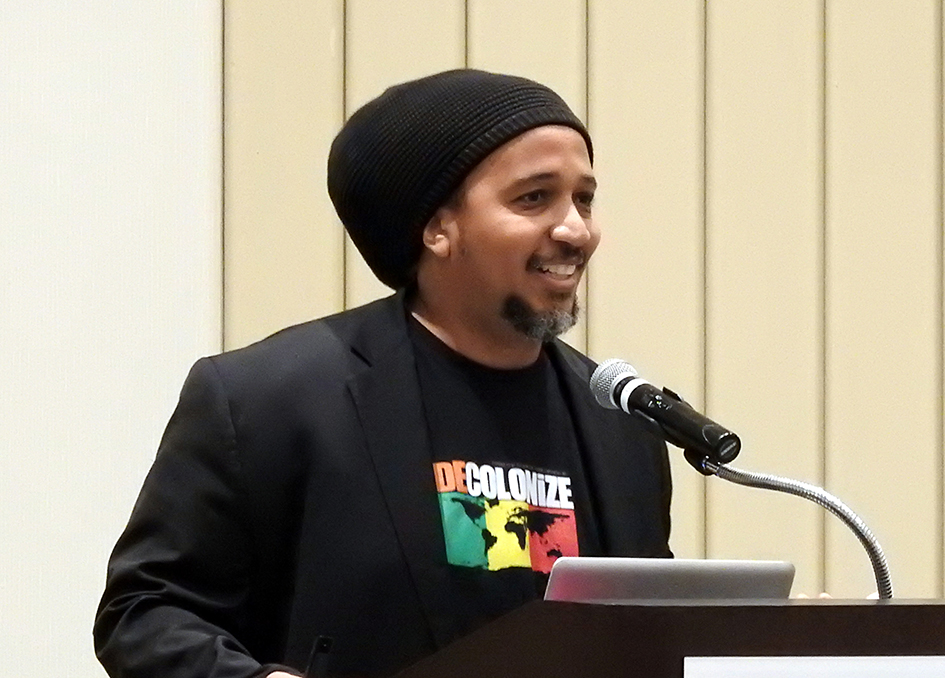 The keynote presentations established an atmosphere that delved into the personal. Morning keynoter Calvin Terrell had all the attendees walk to the front of the ballroom to discuss a question about racism posted on the screen: "If we didn't create 'it' or start 'it,' then who keeps 'it' going, tries to stop 'it,' and/or works to transform its energy?" He told participants to "take the whole story and uncover the truth," imparting the history of white supremacy and hegemony.
When schools do not allow multiple perspectives, "that's not education," Calvin said. "It's indoctrination."
Echoing the opening remarks of SERC Executive Director Ingrid M. Canady and SERC Foundation Director Wendy Waithe Simmons, Calvin issued a call to action: "Wake up and do the work that is uncomfortable." He suggested that if people did not work to regularly disrupt systemic racism, they were helping to sustain it.
In the lunch keynote, Aaron Jafferis reflected on "What Is Race, and How Did I Catch It?" Since we see the world through race-colored glasses, he said, we should not try for color-blindness but depth perception—appreciating the depth of other people and their "multiplicity of experiences."
Aaron delivered his message using hip-hop poetry similar to the musicals he has written. In the middle of his presentation, he invited three high school students to deliver their own race-related poems and raps they had created at his workshop earlier in the day.
One student rap reflected on the dichotomy between his Puerto Rican background and light skin: "Can the lightness of my pigment be the reason I am wrong/When it comes to white oppression, what's the side that I'm on?" Another student poem described being black and bisexual, and a third related the experience of being profiled and harassed by a store owner who was also black.
While Aaron and Calvin facilitated breakout sessions especially for student attendees, students from the #EmbraceTheStruggle group at the TechBoston Academy in Boston helped facilitate their own session. In other breakouts, adult participants underwent the moving experience of creating a "Quilt of Humanity" under the guidance of Deborah Howard and Tony Bennae Richard or an unsettling exercise in stereotyping led by David Luhman. Participants were guided on how they might replicate some of these experiential activities in their own schools and communities.
SERC is following up with several potential partners that want to continue this important and critical work. In addition, the agency is hosting a networking and action meeting June 1 for conference attendees as well as for those who could not make it to the conference. To register for the meeting, go to http://ctserc.net/RaceInEd2017meeting.
---
Together We Will conference
The Dismantling Systemic Racism conference was not the only conference to tackle the topic recently. This year's theme for Connecticut's Together We Will early childhood conference was "Together We Will Address Racial Equity in Early Childhood."
The 24th annual conference, held April 21 at Goodwin College in East Hartford, was a collaborative effort among the Connecticut Office of Early Childhood, the Connecticut Head Start Association, SERC, and other partners. Students from A.I. Prince Technical High School in Hartford set the stage by performing a series of songs and dances from across the globe—in an auditorium in which world flags adorn the walls. One student recited a poem related to the theme of race.
Social justice has always been embedded within early childhood education, said keynoter Walter Killiam, Ph.D., of the Yale Child Study Center and the Edward Zigler Center in Child Development and Social Policy. He described findings related to expulsion from preschool, which occurs at a rate far higher than expulsion from school at other ages, and how expulsion is used disproportionately against black boys. To counter this trend, he suggested focusing on adult biases.
After the keynote, SERC Executive Director Ingrid M. Canady facilitated a breakout "open space technology" session to allow participants to share their perspectives on race. In the afternoon, Wendy Waithe Simmons, Ph.D., SERC's Director of Development, Community Affairs, and Equity, facilitated two sessions on personal reflection. Other breakouts featured Michele Stewart-Copes on achieving health equity through the Culturally and Linguistically Appropriate Services (CLAS) standards; Chin R. Reyes, Ph.D., from the Yale Child Study Center and Zigler Center on the Climate of Healthy Interactions for Learning and Development (CHILD) observation tool; Andrew Grant-Thomas, Ph.D., co-founder of Embrace Race, on children's racial attitudes and how to improve our own; and Caroline Finley and Mary Diamond on Connecticut's Early Childhood Consultation Partnership (ECCP).
In a closing panel facilitated by the morning keynote speaker, Andrew, Wendy, Chin, Michele, and Caroline discussed how to support one another in efforts to achieve diversity and racial equity. "Be afraid," Wendy said, "but do it anyway."
---
Math for Everyone conference
SERC brought a national presenter to the Radisson in Cromwell April 26 to help middle and high school teachers ensure access to the math curriculum for every student.
The conference, "Math for Everyone: Strengthening Tier I Instruction at the Secondary Level," addressed the challenge of managing a math classroom with widely varying skill levels. Keynoter Max Ray-Riek from the Math Forum at the National Council of Teachers of Mathematics (NCTM) kept the teachers engaged by having them examine math tasks and student responses. Teachers collaborated around how to structure effective math discussions among their students.
Katie Laird and Allison DelBene, math teachers from Trumbull High School, got teachers moving around and doing math as they shared several successful group classroom activities. In the afternoon, teachers had the opportunity to share ideas with colleagues from other districts and plan with their own colleagues to improve their math instruction.
For more on the work of Max Ray-Riek, go to http://mathforum.org/blogs/max.
Math has a role in dismantling racism, too. Hear Max speak about it: http://bit.ly/2nT9XQE