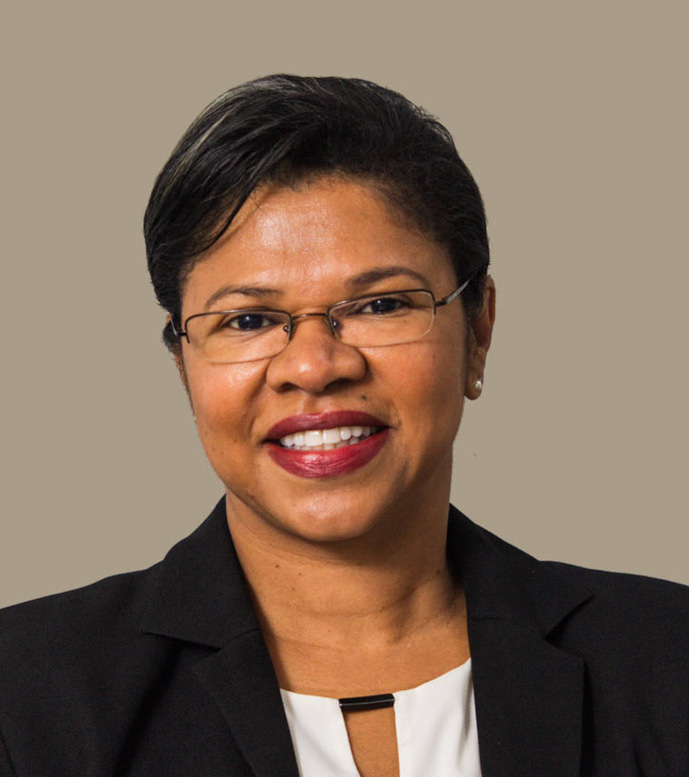 MIDDLETOWN, Conn. - Ingrid M. Canady, a leader of educational equity and excellence at the State Education Resource Center (SERC) for 13 years, has been named SERC's new Executive Director.
The SERC Board of Directors voted unanimously Sept. 26 for Ms. Canady to head the 47-year-old agency, marking SERC's first new Executive Director in nearly 30 years.
Ms. Canady "shares our vision and possesses the passion necessary to realize the role that we anticipate SERC serving," said George A. Coleman, Interim Chair of the SERC Board of Directors. "She has bold plans that are consistent with the Board's and with the work we do with the State Board of Education. She will continue elevating the role of equity and increased opportunities for those populations that might have been underserved in the past to achieve the success that we all want for them."
Dr. Marianne Kirner led the agency from 1987 until her retirement in 2014. Ms. Canady, of Torrington, has served as interim director since December 2014.
Ms. Canady joined SERC in 2003. A former early childhood teacher, she helped facilitate SERC's journey to confront the realities of institutionalized racism and its impact in today's classrooms. Since then, Ms. Canady has been a positive agitator for unmasking these hidden biases and creating a sense of urgency to address the culturally, racially, ethnically, and linguistically diverse needs of all of Connecticut's students.
"SERC ha cambiado mi vida—SERC has changed my life," Ms. Canady said. "As an immigrant Black-Latina woman, it is a true honor to come to work each day for an agency whose staff's passion and commitment embodies the agency's mission of equity, excellence, and education. Now, I am truly blessed and honored to be part of SERC's future."
Prior to her appointment as Interim Executive Director, Ms. Canady served as Associate Director, Assistant Director for Program Development and Partnerships for Equity, Workforce Development Coordinator, and SERC Education Consultant. Ms. Canady holds a 6th-year certificate in Educational Leadership from Central Connecticut State University, as well as a B.S. and M.S. in Special Education.
SERC was launched as the Special Education Resource Center in 1969 to assist the Connecticut State Department of Education (CSDE) in Connecticut's pioneering special education law. Reauthorized in 2005 as the State Education Resource Center to promote excellence in both general and special education, SERC continues to support CSDE and provide professional learning opportunities, resources, and technical assistance to schools, school districts, and families across the state. The SERC Library has served families and the education community for more than four decades.
SERC became a quasi-public agency in 2014 under a revision to state statute, which established a SERC Board of Directors. The Board appointed Mrs. Canady as Interim Executive Director and launched a thorough national search for a permanent director.
"Ingrid did an impressive job facilitating SERC's business as Interim Executive Director over the last two years," Mr. Coleman said. "She has demonstrated to the Board her competence and passion for this work."
In part through the leadership of Ms. Canady, SERC has led systems change efforts in Connecticut education. SERC's years of work in racial equity have included a 2011 report "Equity in Education: A Transformational Approach" and a blueprint for achieving equity through five key elements: school-family-community partnerships, leadership, teaching and learning, school climate, and professional capacity. SERC incorporates these elements in its partnerships with schools and its administration of statewide initiatives, such as Positive Behavioral Interventions and Supports (PBIS).
Ms. Canady said she felt humbled to lead SERC into the future. "I look forward to continue to work closely with our Board of Directors, our staff, and our partners as we create an equitable supporting educational environment on behalf of our children and families."
---
The State Education Resource Center (SERC) (ctserc.org) provides professional development, resources, and a centralized Library to Connecticut educators, service providers, families, and others to support its vision: Equity. Excellence. Education.
The CT Parent Information and Resource Center (CT PIRC) (ctpirc.org) is based at SERC in Middletown and works with partners across Connecticut to ensure that families have a voice in education that is sought, respected, and valued.