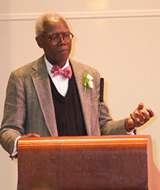 HARTFORD—Politicians, colleagues, and education commissioners old and new paid tribute at a Jan. 18 retirement celebration for George A. Coleman, stating that his dedication to Connecticut's children will be felt "for generations and generations."
The former CT State Department of Education (CSDE) administrator was honored at The Bushnell Center for the Performing Arts a few months after ending his second stint as interim commissioner. His 24-year tenure at the department spanned from the growth of early childhood education to a takeover of Bridgeport Public Schools.
"Future generations will not know that it was George Coleman that did so much for them," Lt. Gov. Nancy Wyman told him. "For generations and generations and generations, the work you did will carry on forever."
The CSDE first hired Coleman, a former classroom teacher, in 1987 as an elementary education consultant. As chief of the Bureau of Early Childhood Education and Social Services, Coleman was instrumental in creating one of the premier early childhood education systems in the country, Secretary of State Denise Merrill said.
Coleman then went on to several leadership roles: associate commissioner, then deputy education commissioner, then interim commissioner, then deputy commissioner again, and then interim commissioner again until Gov. Dannel Malloy appointed Stefan Pryor to the commissioner post last fall.
"There is absolutely no call to public service that you have not answered," state Rep. Andy Fleischmann, co-chair of the General Assembly's education committee, told Coleman.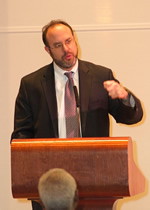 Pryor compared Coleman's public service to South Pole explorer Ernest Shackleton's 1913 classified advertisement in the London Times: "Men wanted for hazardous journey. Low wages, bitter cold, long hours of complete darkness. Safe return doubtful. Honour and recognition in case of success."
"George Coleman has responded to the equivalent of that ad not once, not twice, but numerous times," Pryor said.
"It is my intent to run such an ad again in the future, because we really couldn't do it without you," Pryor added, calling Coleman a "continuing partner" as well as his predecessor. "We will be calling upon you again."
Coleman also received a congratulatory proclamation from Gov. Malloy's office; a public leadership citation from state treasurer Denise Nappier; a pair of official State of Connecticut cufflinks from former education commissioner Theodore Sergi, who hosted the event; congratulatory letters from former commissioners Mark McQuillan and Betty Sternberg; and a gift of a giant antique toolbox presented by Charlene Russell-Tucker, who noted Coleman's fondness for fixing things.
Coleman credited many others from CSDE, as well as partners from numerous agencies such as the State Education Resource Center (SERC) and the regional educational service centers, for their mutual commitment to serving all children.
"We couldn't do it alone as consultants," he said, referring to his earliest position at the department. "And I'm sure Commissioner Pryor can attest, you can't do it alone as a commissioner."
Raised by an African Methodist Episcopal mother, Coleman said he learned early about the importance of discipline and purpose in the lives of young people. But a memorable influence early in his career was when a 13-year-old boy told him, "I want to be like you."
"The weight of that, even then, was tremendous," Coleman said. It "disciplined me for the rest of my life…. I was more conscious about my friends, I was more conscious about my attitude and demeanor, I was more conscious about what I give and how I give."
Russell-Tucker, who led the planning for the retirement celebration, recalled Coleman's leadership after the CSDE took over the Bridgeport Board of Education last year at the board's request. Coleman asked that a forum for parents be scheduled in just a couple of days, and used the opportunity to speak passionately about the inequality in the city's public schools.
"Progress is not sufficient," Coleman said at the forum. He refused to accept that the success of young people would be "based on their Zip code." Parents were so engaged that their conversations with Coleman spilled out into the parking lot, said Russell-Tucker, an associate commissioner at CSDE who was appointed the position of chief operating officer hours before the retirement celebration.
Ann Dupree and Ed Robbs of the Danbury-based Hord Foundation, which provides scholarships to African American students, credited Coleman's leadership on the board with helping to secure more than $3.5 million in scholarships. This contributed to making Danbury High School a leader in the state for educating students of color, they said.
In Connecticut as a whole, however, the achievement gap between white students and students of color remains intractable. In December, SERC established the annual George A. Coleman Excellence in Equity Award for those working hard to close the gap, and asked Coleman to help choose the first recipient, to be announced in December 2012.
Coleman acknowledged the work left to be done. He recalled one particularly long, exhausting day when his grandson, Xavier, asked him, "but Grandpa, did you do your best?"
Xavier and Coleman's other three grandsons, as well as the rest of his family and hundreds of friends, were in the audience to hear his answer. "Tonight, I stand before you, fully, fully aware of the amount of the agenda that is not complete, understanding my failings. But I can stand before you, saying: I think I did my best."
Watch the video clips tribute to George Coleman by his friends, colleagues and family at his retirement ceremony.
---

Student singers from the Hartford Area Seventh-day Adventist School perform at The Bushnell at a retirement celebration for George Coleman, former acting commissioner of the State Department of Education.